Registrants signing in socially with LinkedIn for the first time will see the message below. But why?
All apps like InGo that integrate with LinkedIn must ask users for permission to access information or use features on their behalf. This is a standard practice dating back to the days of games like Farmville on Facebook.
Some of the permissions requested from LinkedIn sound scary, so we'd like to explain why each permission is requested. These permissions may be revoked by LinkedIn users at any time simply by editing their privacy settings.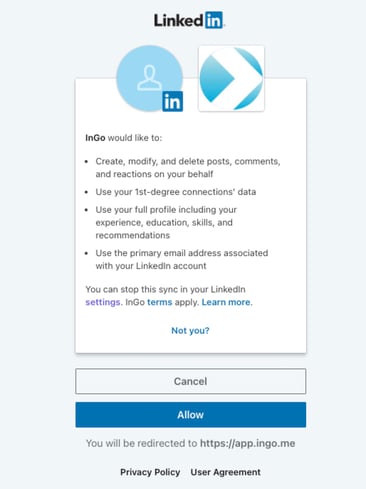 Create, modify, and delete posts, comments, and reactions on your behalf
This allows us to post to the registrants' LinkedIn feed on their behalf, and only when permission is given. InGo will NEVER EVER modify or delete pots, nor do we create, modify, or delete comments or reactions. The LinkedIn API allows this, however, so that's why they have to say it.
Use your 1st-degree connections' data
This allows us to show registrants which of their connections are attending the event for which they're registering, and also to easily allow registrants to invite their connections to join them.
Use your full profile including your experience, education, skills, and recommendations and Use the primary email address associated with your LinkedIn account
These allow us to get registrants' contact details, job title, and company name to auto-fill the registration form and expedite the process. InGo shares this information only with the event organizer and only under the terms of both parties' privacy policies.
And to reiterate, these permissions may be revoked by LinkedIn users at any time simply by editing their privacy settings.
Best Practices
Bookmark this page for your records. It can be helpful to refer back to when questions come up about permissions.
Link to this explanation from your confirmation or registration page, depending on your audience.
If your widgets are highly stylized and may not look like a "traditional" InGo widget, make mention of the use of a referral partner like InGo so that it is not surprising.
Reminder for all parties that InGo is not accessing passwords for LinkedIn and the permission goes directly to LinkedIn. InGo has separate terms and conditions that are agreed to during posting and registration.