Incentivize your registrants and VIPs to post and invite their connections.
Incentives are an easy and cost-effective way to grow your attendance.
1. Pick an incentive
Select an incentive that will motivate your audience to post and invite their connections. Incentive offers can be any of the following.
VIP Pass to the event (food, drinks, invite-only sessions, etc.)
Free lunch with a speaker/celebrity
Cash or Amazon Gift Card
Industry-relevant giveaway
Free entry for a friend
Anything free/cheap to offer that is valuable to your audience
2. Create an incentive email campaign
Use your marketing communication tool to compose an email template with the details of the incentive. Best practices include the following (see example below).
Enticing and engaging
Easy to understand the incentive
Clear call(s) to action

3. Add InGo links to your incentive emails
In your InGo Admin Event Dashboard, click the "View Links" button for the audience you are incentivizing...

...then copy the link from InGo Admin...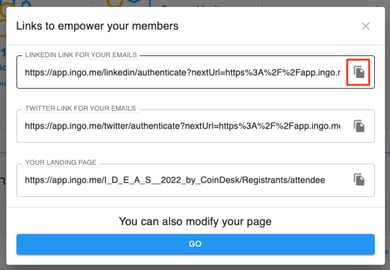 ...and embed them into your email template call-to-action buttons and links.
4. Watch your attendance grow
Launch your campaign and watch your registrants get engaged, create posts and invites, and encourage their connections to join them for your event or experience.
Do you have questions about how to create an incentive campaign? Get in touch with us at support@ingo.me for assistance.