InGo Facebook Product Update
March 22, 2017
Internal Product Update with Facebook Open Graph API Changes
Facebook has retired the way that InGo used to publish stories as of March 2017. In order to better serve you, our clients, with the best possible information and to ensure that Facebook posts and tagged (invited) posts still do get published into users newsfeeds, we have adapted the way that we publish Open Graph stories.
Invites
An invite on Facebook is still a "tag" to which the invited friend or contact get's notified in various ways that he or she was tagged in a post.
This tag for the user has slightly changed where it gets published. It is now specifically in the story action itself, see the screenshot below for further reference.
Facebook Pages
As part of this update, by default, any NEW (as of March 13, 2017), social activity post or invite using InGo on Facebook will have this new story method published.
Now, whenever a user completes an action through the InGo app AND the user invites a friend (tags them), then we will also publish the Facebook page that is tied to the event in Admin.
This is NOT yet configurable to any end-user (Organizer), but it is configurable to an InGo Account Manager.
Future iterations will have a location for non-InGo Admins to modify and configure this feature.
Screenshot of Notification Drop Down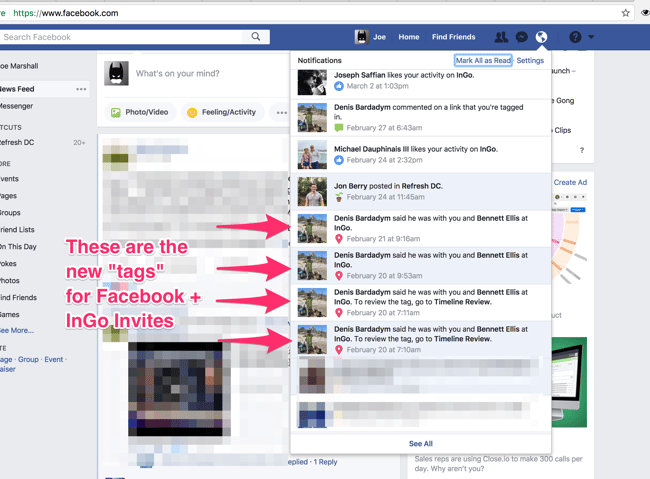 In the Timeline, On Profile Page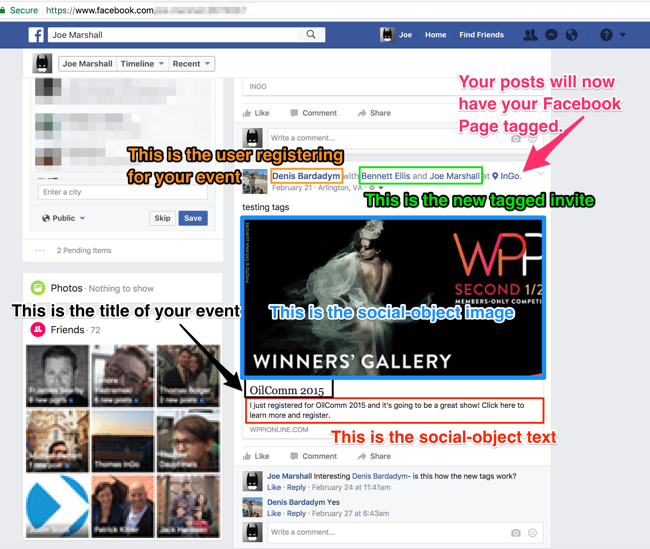 ###
Internal Product Update with Facebook Open Graph API Changes
Joe Marshall, Director of Marketing, jmarshall@letsingo.com
January 22, 2015
Executive Summary
Facebook has changed it's Open Graph API and has modified the ability to send direct invites and has supplanted its system with tags. This document will examine the changes to the Facebook Open Graph API, as well as highlighting other social networks in context.
InGo has responded to this change with several improvements and benefits to our widgets. The benefits and features are explained in their respective sections.
Facebook Open Graph API Update
Social Media Distribution Channels
Facebook is modifying the way third party apps integrate with Facebook user accounts. Essentially, they are adding a feature called "tagging." For the purposes of this document, we have outlined the differences between a post, a messages and a tag.
Legend
Posts

- Trusted Impressions

Message

- Private invites

Tags

- Public invites
Benefits
Personal

- Messages addressed to specific contacts within the users network

Direct

- Targeted messages

Broadcast

- A public link, story or post on the user's Timeline; this appears in the News Feed(s) of the user and his network(s)

Notification

- An alert that is generated by some activity from an interaction with a user (e.g. - a user tags his/her friend that they are going to an event)

Organizer Customized

- Organizer editable messaging

Interactive

- The message may be responded to, commented on or liked by another user
Facebook Posts
What is it and how does it work? A post is a publicly available, publicly broadcasted, organizer customized, interactive item that appears on a Facebook user's News Feed. The below image is a post.
Who sees it? The contacts within the network of the person who posts (1st degree contacts).
Where do they see it? The user who posted will see it on his or her own Timeline and it will be publicly broadcast on the News Feeds of their social contacts.

Facebook Tags
Private vs. Public Invites
Source: https://www.facebook.com/help/366702950069221/
What is it and how does it work?
When you tag someone, you create a link to their profile. The post you tag the person in may also be added to that person's Timeline. For example, you can tag a photo to show who's in the photo or post a status update and say who you're with. If you tag a friend in your status update, anyone who sees that update can click on your friend's name and go to their profile. Your status update may also show up on that friend's Timeline.
When you tag someone, they'll be notified. Also, if you or a friend tags someone in your post, the post could be visible to the audience you selected plus friends of the tagged person. Learn more about what happens when you create a tag.
Tags in photos and posts from people you aren't friends with may appear in Timeline review where you can decide if you want to allow them on your Timeline. You can also choose to review tags by anyone, including your friends.
Who sees it?
When you tag someone, that content (ex: photo, post) may be shared with the person tagged and their friends. This means that if you haven't already included their friends in the audience, their friends may now be able to see it. For example, if you tag Jane in a photo shared with your friends, the audience expands to Friends (+) to include your friends and Jane's.
If you don't want your photo, post or other content to be visible to the friends of the person tagged, you can turn this setting off for each post when you post it. To do this, click the audience selector next to the story, select Custom, and uncheck the Friends of those tagged box.
The audience also expands to Friends (+) when others tag your post or photo. Learn how to approve or dismiss tags that friends add to your posts before they appear on Facebook.
Where do they see it? Users will be notified in the Facebook app (depending on the user's privacy settings) and on the web interface in the notification center seen here:
Facebook Invite vs. Tag
When user A tags user B on a post, the post becomes visible to user B's friends. If B's friend C likes or comments on the post, the post becomes visible to C's friends as well, multiplying the total trusted impression reach.
Who sees it? The contacts within the network of the person who tags as well as the contacts within the network(s) of those people tagged (1st and 2nd degree contacts).
Does this mean the InGo Amplifier Widget text changes? In short, yes; but only slightly. Whenever a user sees the social widget and selects Facebook friends, the text on the box of the invite will change and say: "You are tagging your Facebook friends publicly, say something to encourage them to come to the show!"