What do all these stats on the new Events Dashboard mean? Let's start with these columns in the events section of the page.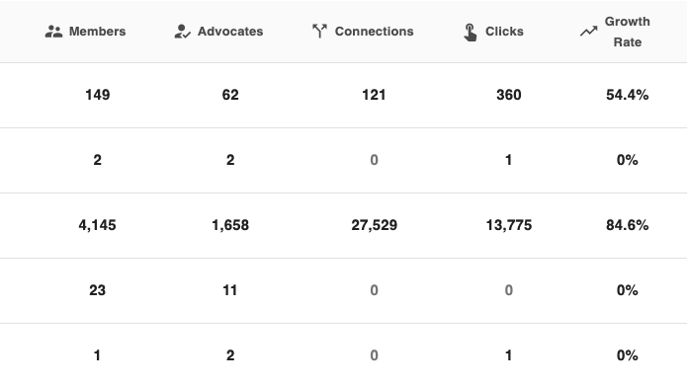 Note - All statistics are affected by the Start Date and End Date filters on the dashboard.
Members (registrants) - count of all people in your community that have been processed by InGo in some manner. regardless of how they entered the system or whether or not they completed registration. This includes people who opt for manual (non-social) registration as well as anyone who socially authorizes through the login (activator) or social (amplifier) widgets.
Advocates - count of all registrants who socially authorized with InGo and opted to advocate on behalf of the event
Connections - count of all connections between community members that we could analyze
Clicks - count of all clicks generated by InGo-based activity, including clicks on social posts and email invitations
Growth Rate % - the rate at which your event grew through InGo platform features - registrants acquired as a result of InGo-based social posts and email invitations. Learn more about how InGo tracks acquisitions.
So now on to those numbers at the top of the page.



Total Members - sum of all members collected in the specified date range
Clicks - sum of all clicks collected in the specified date range
Growth Rate - average growth rate across all events for the specified date range